You're pregnant. Congratulations. You're entering a momentous phase in your life. A fun and exciting time, but also a time of uncertainty. We can imagine that you have a lot of questions, but most of all that you want to have a care-free maternity period. And you've come to the right place for that. Trust in us during one of the most exciting times of your life. Why? Because we have a passion for our profession. A passion for maternity care.
Register for maternity care
Call 0181 391 440Registration form
Index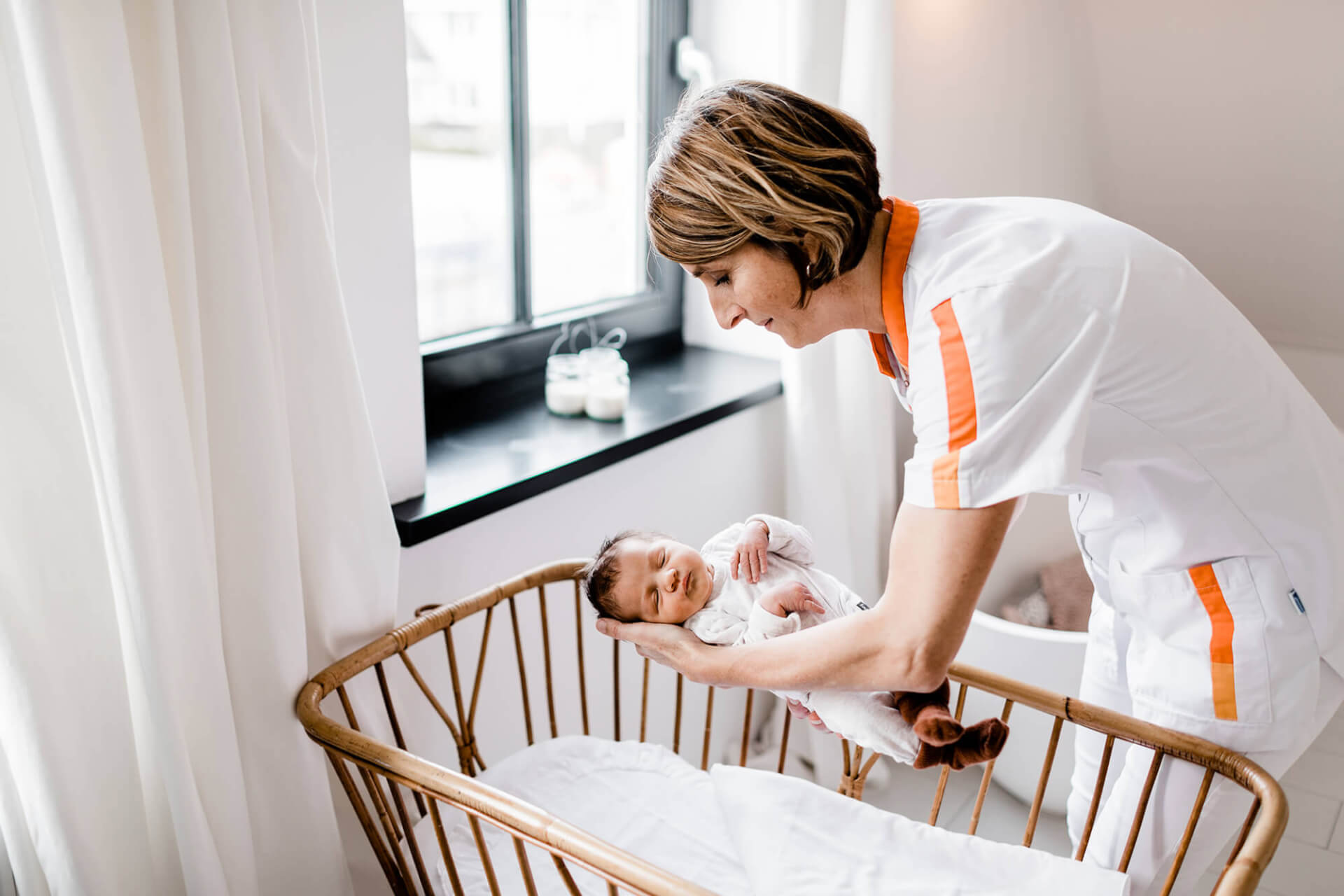 What can you expect from us?
One steady maternity carer per family. That is our focal point.
Expert and professional guidance from our first aid certified maternity carers.
A personal intake meeting where we discuss your personal wishes.
Expert breastfeeding advice.
Free informational meetings about breastfeeding.
Assistance during delivery.
Incubator care.
Our maternity carers also look after the other members of the family.
Can be reached 24 hours a day.
Contracts with all health care providers.
Taking care of practical matters.
Parent experiences with our maternity care
We receive nice comments every day. We can't post all of them, but you can find a small selection of them on our website and Facebook page.
About Kraamzorg de Eilanden
Knowledgeable
Knowledgeable because we are an HKZ (Harmonization of quality in health care) certified maternity care organization. This is your guarantee for good care. Additionally, we are in possession of the WHO/UNICEF Commitment to Breastfeeding certificate. Our maternity carers are specialized in guiding breastfeeding according to the "Ten steps to successful breastfeeding " of the World Health Organization (WHO) and UNICEF. Educating our maternity carers is an ongoing priority at de Eilanden Maternity Care. For example a refresher course in first aid and new insights and techniques in the field of breastfeeding. Additionally, all of the news in the field of maternity care is discussed each quarter. This is the only way to guarantee quality.
Personalized maternity care
Involved because all of our maternity carers have a passion for the maternity care profession. We help the family where we can and we want to do that as well as possible. Maternity care needs differ per person. Some people have a lot of help from family. Perhaps you're pregnant with your first baby and you want as many hours of maternity care as possible. The number of maternity care hours is tailored to your situation.
Care for the family
Most children would like to have a younger brother or sister, so it's very fun and exciting when a baby is born. Some children may have difficulty sharing the attention of mom and other members of the family. Our maternity carers don't just look after the mother and baby. They also ensure that the baby's integration into the family runs smoothly. In other words, they make sure that any other children in the family are involved when it comes to taking care of the baby.
Serice area
De Eilanden Maternity Care has three locations. These are in Zwijndrecht and Delft. The headquarters is located in Stellendam. Our service area covers the entire Rijnmond-area, Delft, Rotterdam, Drechtsteden, Voorne-Putten, Goeree-Overflakkee. Our maternity carers live throughout our service area. Would you like to know if we can provide maternity care for you? Give us a call 0181 391 440 or send a message.
Your maternity care
Intake meeting
During an intake meeting, all matters surrounding preparation for childbirth and the maternity period are discussed. Family composition, the presence of pets, etc. are all covered. We'd like to tell you more about our organization and the maternity care you can expect from us. The benefits of breastfeeding are also discussed. Additionally, we're very interested inyour wishes!
The intake meeting takes place no later than the 7th month of your pregnancy. In cases of multiple births, the meeting is no later than the 6th month. Is this your first child or are there special circumstances? Then we always come to your house. If you've already had a child, the meeting will usually take place over the phone.
Download checklist birth and baby essentials
Number of maternity care hours
The number of maternity care hours is determined as objectively as possible with the national maternity care indication protocol. These are the guidelines with which the nature (the content of care) and the amount (the number of care hours) of maternity care needed is assessed. There are three occasions when the type of maternity care is examined. We call this the assessment formula.
The first occasion is at a gestational period of at least 36 weeks. A specially trained staff member discusses the content of the maternity care with you. What do you and your family need? The number of maternity care hours is initially based on this. If all goes well during the delivery, you will receive the standard 49 hours of maternity care.
But not everything is known before the birth. That's why there are two other occasions when we look at what care should be offered. This occurs on the day of the birth and on the third or fourth day after the birth. Your midwife and maternity carer do the second and third assessments together. If necessary, the care provided will be adapted to the new need for care. We call this a reassessment.
When does our maternity care start?
We want to provide you with a care-free maternity period. A time when you can enjoy your baby. That's why our maternity carers aren't just there for you after you give birth. They can also be there during delivery. Even when your baby spends the first few days in an incubator, we're there for you.
Home birth
Giving birth in your own familiar surroundings often has a very positive effect on the progress of your labor. You usually feel freer and other family members can be more involved with the baby's arrival.The midwife calls us when the baby is about to be born. Our maternity carer will be at your house as soon as possible. She will get everything ready and support the family during the birth. Depending on the time you give birth, she'll stay for at least 2 hours after the birth of the placenta to care for and check on you and your baby. She'll also clean up the materials used during delivery. It's important to know that these hours won't be deducted from the maternity hours agreed upon with you. Additionally, every health care provider reimburses the number of care hours provided during a home birth.
Maternity care after hospitalization
It's possible that your baby will have to stay in the hospital for a while. In such cases (especially with a first baby), you miss the advice that the maternity carer would normally give you during this time. Some health care providers still offer their policy holders the opportunity to receive a number of maternity care hours. Ask your health care provider what the conditions are or give us a call.
Hospital birth
When you get home from the hospital, a maternity nurse will be there within the agreed time.
Birth line
If you're sure that your contractions have started, call the birth line at: 0181 31 00 00. We'll then reserve a maternity carer for you.
Home birth assistance
Call us when the midwife indicates that the presence of a maternity carer is desired. She can best estimate how much longer labor will last. Our maternity carer will immediately come to help with the delivery.
Hospital birth
If your baby is born before 8 p.m.: call us after the baby is born. Call us again when your are about te leave the hospital. We'll then arrange a time when you can expect the maternity carer at your home. If your baby is born after 8 p.m.: call us the next morning around 8 a.m. We'll then arrange a time when you can expect the maternity carer at your home.
Video: the first hours alone with your baby
For the first time alone with your newborn baby, that is often very exciting. For example, if you just got home from the hospital or your first night alone with your baby. To help you get started, we've listed a number of tips in our video 'the first hours alone with your baby'.
Cost and insurance
Cost
The cost of maternity care and your own contribution are regulated by law and are covered by basic health insurance. All costs, with the exception of your own contribution, are reimbursed. Your contribution is €4.80 per hour.
There are some health care providers that, depending on how you're insured, reimburse all or part of this contribution. Lactation consultations and the maternity package can also be covered. Check the policy terms or ask your health care provider if you are eligible.
In addition to the indexed maternity care hours, it's also possible to purchase maternity care hours. You pay for these hours yourself. An extra hour of maternity care costs €59,33.
Healt insurance
De Eilanden Maternity Care has contracts with all health care providers to provide maternity care. In a number of cases, you cannot register with us directly. In such cases you need to contact your health care provider's maternity care line.
Read the terms and conditions of your insurance policy carefully. A number of health care providers reimburse things like lactation expert consultations or have free maternity packages available.
General conditions
General conditions for maternity care of Bo Geboortezorg
Breastfeeding
Breastfeeding is the best baby food there is. It contains all of the necessary nutrients and antibodies a baby needs and it remains an important source of nutrition in addition to the solid food that's given to the baby.
Our organization is in possession of the WHO/UNICEF Commitment to Breastfeeding certificate. This means our staff members are specialized in the "Ten steps to successful breastfeeding" from the World Health Organization (WHO) and UNICEF.
Breastfeeding promotes bonding between mother and baby and also has many other advantages. A few of them are listed below:
Baby
facilitates the passing of meconium
contains antibodies against diseases
helps the development of the baby's immune system
is easier to digest than formula
decreases the chances of developing allergies
reduces the risk of getting asthma
reduces the risk of getting otitis (middle ear infection)
Mother
less blood loss after delivery because the uterus contracts faster
reduces the risk of osteoporosis
helps you lose weight more easily after the baby is born
Free information meetings about breastfeeding
De Eilanden Maternity Care offers our clients a free breastfeeding information meeting, which is given via an online webnar by a specially trained maternity care consultant. Good preparation during the pregnancy, by both you and your partner, increases the chances of a relaxing and pleasant start with your future baby. During the webinar, the information necessary for making a good start to breastfeeding is covered.
By recognizing your baby's behavior, it becomes progressively easier to respond to his or her needs. Additionally, the timely identification of, and solution to any issues can ensure a relaxed breastfeeding period. The subjects covered are:
breastfeeding: how does it work?
Is the baby latched on properly?
What do you need to pay attention to when latching?
How do you ensure that milk production is going well?
How do you recognize feeding signals?
How do you know if your baby is drinking enough?
How often and how long do you feed?
Feeding on demand?
What types of feeding positions are there?
How can you recognize, solve and prevent any potential problems?
When do you need help?
How big is the role of the partner and the surroundings?
Of course you will also have an opportunity to ask any questions you may have.
Register for maternity care